.
Welcome to the
European

BIodiversity Orchards -

Network

Biodiversity in the European agricultural landscape is decreasing due to extensive land use, fragmentation, monocultures and species loss. Orchards are landscape-dominating perennial agroecosystems and their management impacts species abundance and diversity at large spatial scale. Thus fruit-growers can actively influence the level of European Biodiversity by their cultural practices. But they can also profit from the Ecosystem Services provided by elements of the so-called Functional Agrobiodiversity (FAB) which can be actively created by orchard management.

The EBIO-Network has been established as a tool for connecting European fruit growers with stakeholders from research, advisory services and organizations in order to share experiences, new knowledge, achievements, hurdles and solutions for FAB establishment in European orchards.

This Platform was created by

A project run by CORE Organic Plus:
http://coreorganicplus.org/research-projects/ecoorchard/
http://plen.ku.dk/english/research/organismal_biology/applied_entomology/ecoorchard/
What's new
27th April 2018 – Happy Bee
Day!
Member States endorsed the European Commission's proposal to completely ban the outdoor uses of three neonicotinoids (clothianidin, imidacloprid and thiamethoxam. The Commission will adopt the Regulations in the coming weeks.
At the same time, wild bees were very busy in European orchards in pollinating apple trees!
---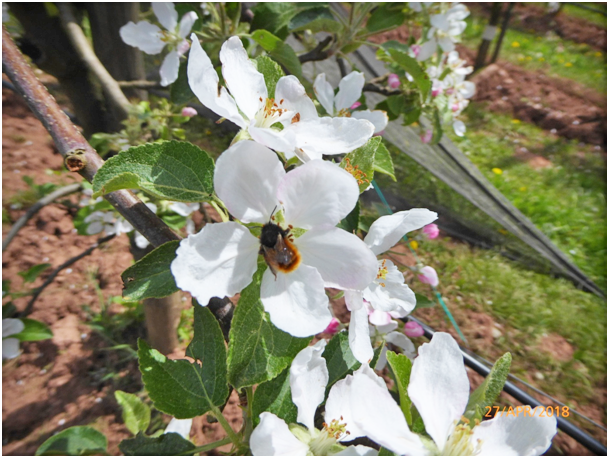 You can find a new EcoOrchard Fact Sheet on Wild Bees here
---
For more info, please contact ebionetwork@julius-kuehn.de